Projects
NRAS is working in the Marshall Islands where it carries out underwater surveys of several atolls.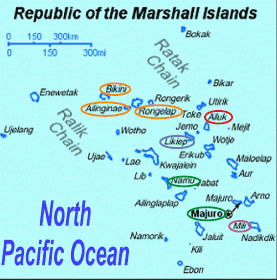 The reefs of RMI contain a wide variety of marine resources that are highly endangered by the threats currently imposed on coral reef ecosystems globally. Particularly in the inhabited atolls, the reefs suffer from the expanding pressures of growing populations and from global threats such as climate change. The interest in coral reef management and conservation in this isolated country - perceived as an area where relatively intact reefs can still be preserved - has recently arisen in local and international conservation agencies alike. In the past ten years the governments and the people of the Marshall Islands started to recognize the need to preserve the traditional "good and sustainable life" of the country. At present, RMI is committed to: 1. activate conservation sites, 2. train local people in knowledge and skills to conserve marine resources, and 3. better understand marine ecosystems to achieve sustainable development and resource use, environmental protection, and an improvement of income opportunities (RMI, 2002).

NRAS as support to the College of the Marshall Islands (CMI) accomplished coral reef assessments in the past 7 years to assist the Marshall Islands Marine Resources Authority (MIMRA) manage resources at the outer atolls. (S. Pinca, 2003, see page 31). CMI carried out pilot studies and ecological reef assessments in the atoll of Likiep in 2001. With the support of the NRAS team more surveys were undertaken at Bikini (2002), Rongelap (2002-03) and Mili (2003), Namu (2004), Majuro (2004), Ailuk (2006) answering two similar demands from both the national government and the local people, who strive to take measures to protect the natural marine resources through conservation and alternative sustainable use activities, such as aquaculture and tourism. Research data have been collected on coral reef health, fish biodiversity and biomass, scleractinia biodiversity, megafauna abundance and diversity. The studies have shown very pristine reefs in the inhabited areas, with very high level of biodiversity and new species of corals (a new species from Rongelap atoll described by Zoe Richards at the Museum of Tropical Queensland in Townsville, Australia). A group of 20 external and locally trained surveyors researchers participated to these efforts, under the direction of S. Pinca. Reports have been issued from this research (Pinca, 2001, Pinca et al. 2002, Pinca and Beger, 2003, Beger et al. 2003a and b, Pinca 2004, Pinca 2006), data was delivered to ReefBase and are public for vision and reference, and results have been presented publicly in the country and internationally at scientific and management conferences. (Manila, 2003, Guam, 2003, Townsville, 2003, Okinawa, 2004, Bremen, 2007). Management recommendations in the reports included the establishment of Marine Reserves in the atolls as desired by the local governments and local land-owners. Other efforts have included several short workshops and community presentations.
Following the first successes, local governments have expressed the need of more monitorings and more training of local employees who could take charge in the management of the new conservation sites. This is where NRAS is focusing now......

Literature cited
Beger, M. Pinca S. 2003. Coral reef biodiversity community-based assessment and conservation planning in the Marshall Islands: Baseline surveys, capacity building and natural protection and management of coral reefs of the atolls of Rongelap and Mili" - Final Report to National Fishery and Wildlife Foundation. Download (1.3M)
S. Pinca, 2003. Community-based mnagement and conservation. Marshall Islands surveys to support effort towards reef conservation. SPC Women in Fisheries Information Bulletin, 13, 31-33. Download (634k)
Pinca S., Beger M., Peterson E., Richards Z., Reeves E. 2002. "Coral reef biodiversity community-based assessment and conservation planning in the Marshall Islands: baseline surveys, capacity building and natural protection and management of coral reefs of the atoll of Rongelap". RALgov public report.
1. Intro and Methods. Download (667k)
2. Ecology. Download (1.1M)
3. Site profiles. Download (1.3M)
4. Recommendations. Download (200k)
5. Appendices. Download (240k)
Or: Full report. Download (4.4M)
Pinca, S. 2001. Marine Resources Assessment: Likiep Atoll 2001, final report. MIMRA, Republic of the Marshall Islands.
Republic of the Marshall Islands. 2001. "Strategic Development Plan Framework (2003-2018) - Vision 2018 - The Broad Framework Presented In A Matrix" by SEDP, Steering Committees, Sub-committees established by the cabinet, SEDP Project Office, Ministry of Finance, Majuro, Marshall Islands.